SprayWorks Equipment Group , of Canton, Ohio, honored their customers with an appreciation day event. The full-house activities included food, drawings, prizes and an opportunity to try out equipment and materials. During this lively event, customers showed off their spraying skills in SprayWork's practice spray room.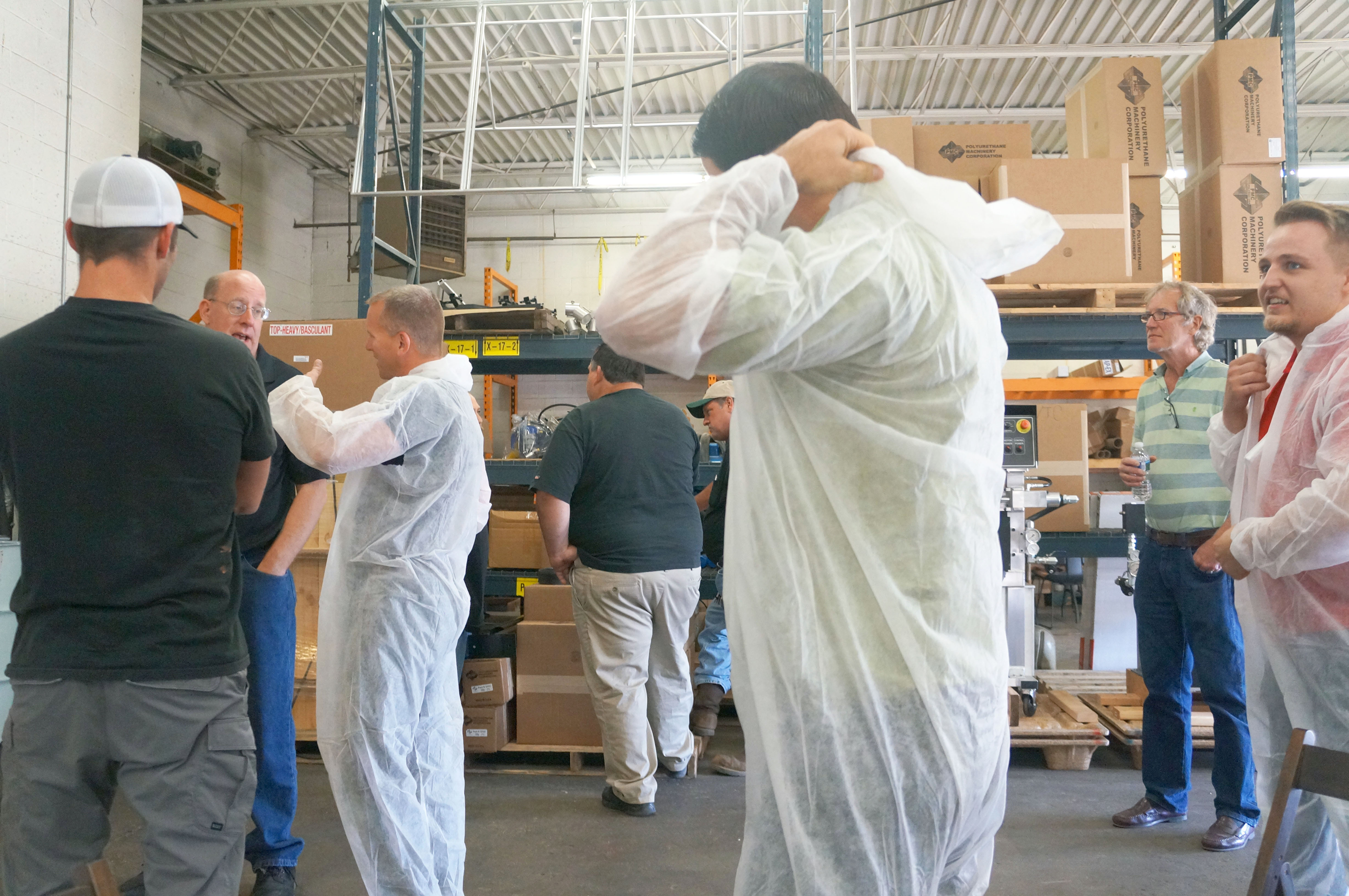 Participants suit up to try out spray equipment and material in Sprayworks' practice room.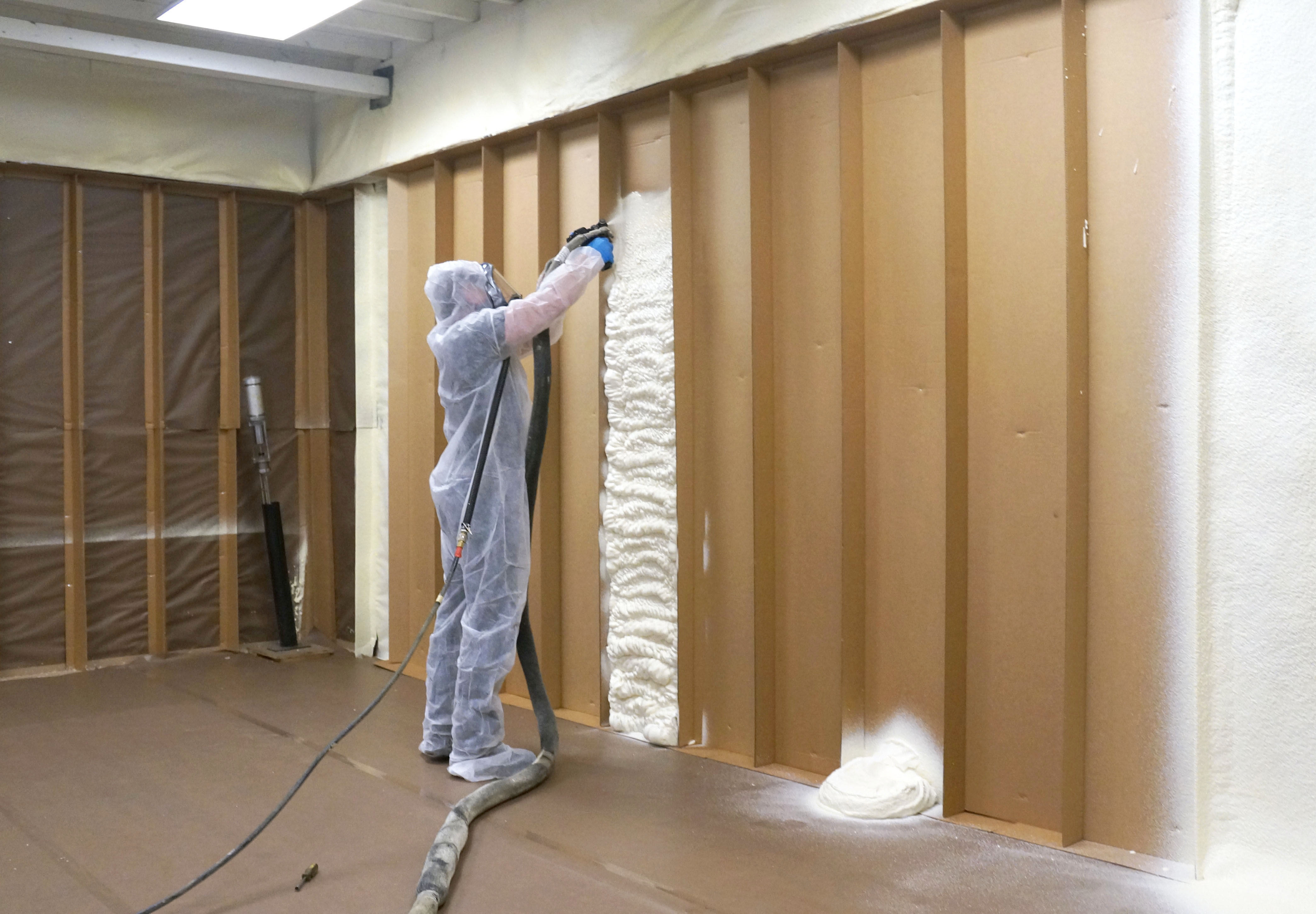 Kyle Lino, Co-Owner of Finish Line Foam, tries out PMC's AP-2 Spray Gun and Rhino Lining's Thermal Guard Open Cell Spray Foam.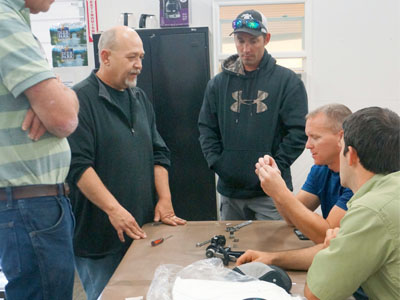 Dave Penta (back L), Sales Manager for Sprayworks, offers spray gun tech tips to participants.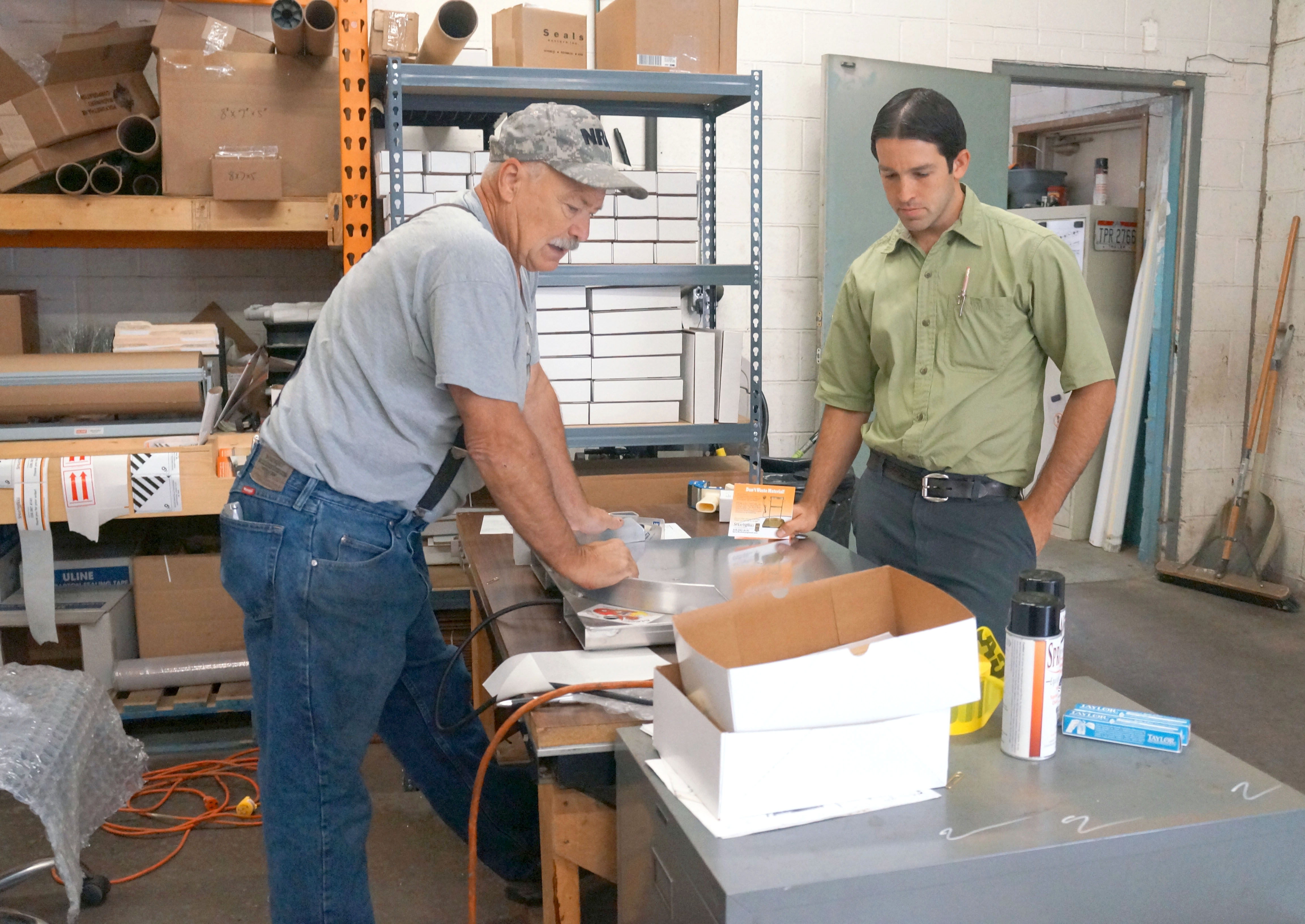 Jim Davidson (L), Owner of Sprayworks, discusses the Barrel Blazer Dum Heater system with Cody Riffey, of Dayton, Ohio.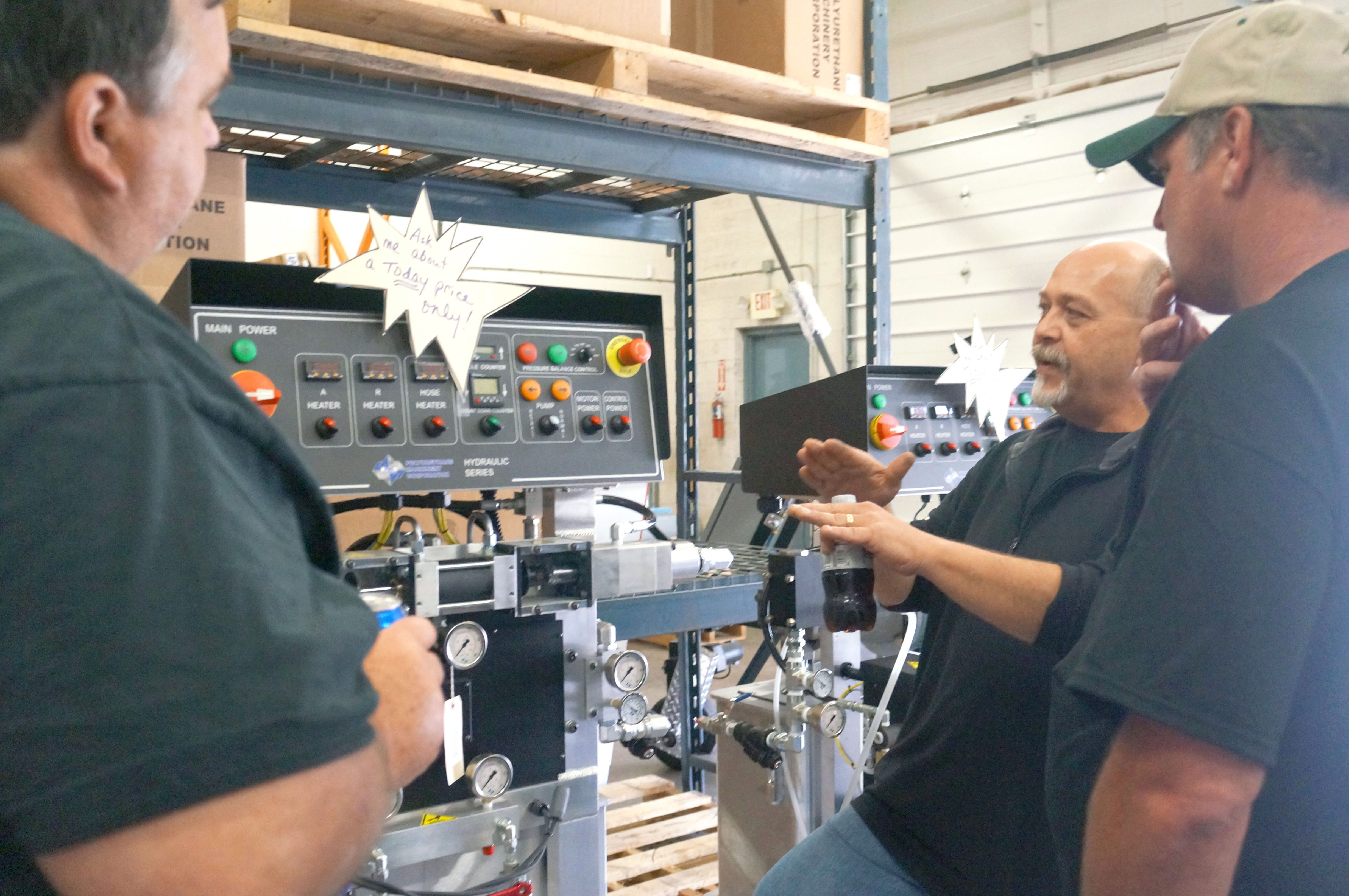 Dave Penta (back R) discusses the operation and advantages of PMC's H-40 Spray foam machine.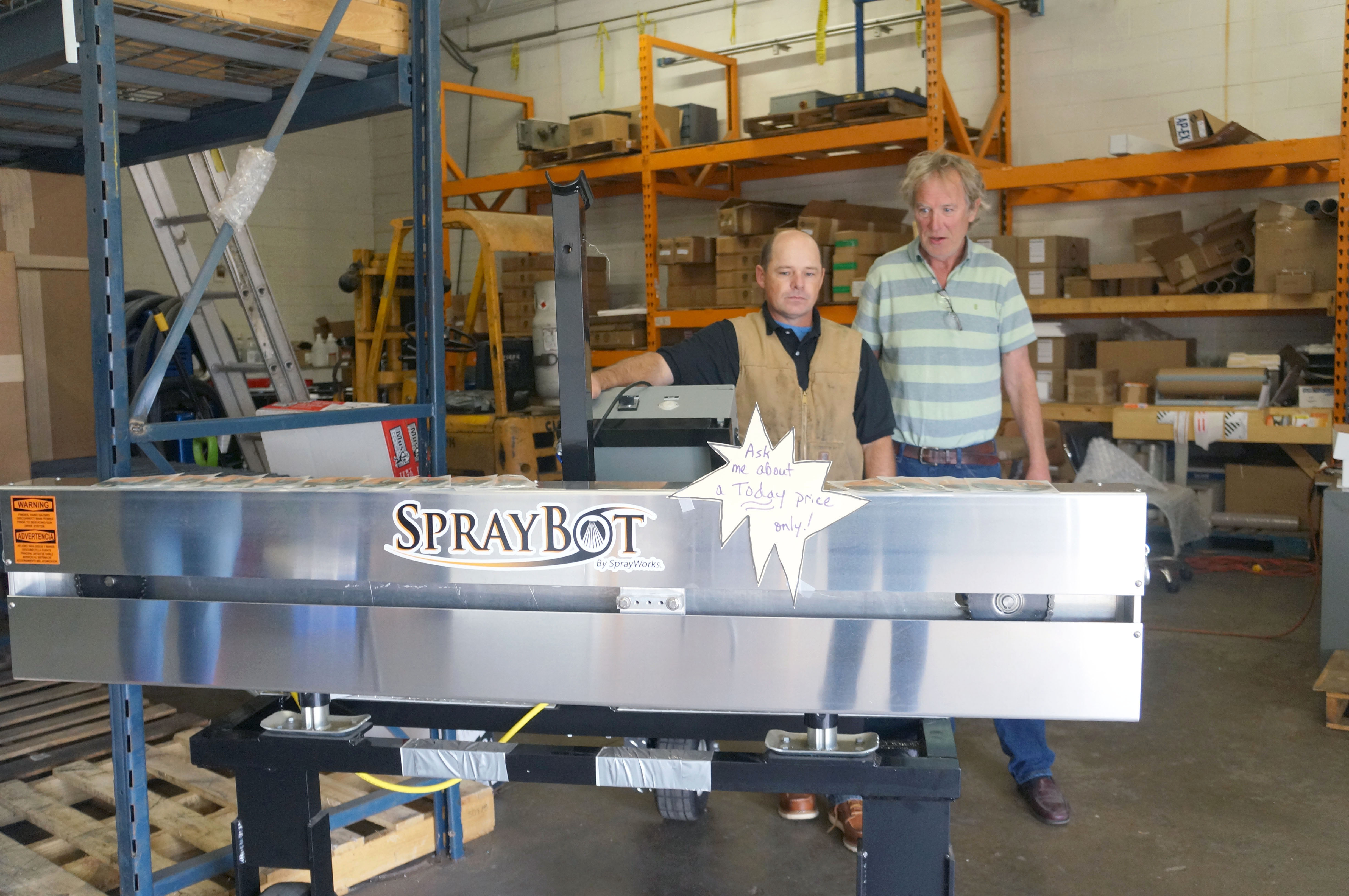 John Davidson (L), Vice President of Operations at Sprayworks, shows Bill Skinner (R) how the aurtomated Spraybot operates.
Spray Foam Insider had an opportunity to interview Bill Skinner, owner of Complete Coatings, Inc. This is what he had to say: "I just love these guys (SprayWorks). They have always been there for me and taken care of me. I could have gone other places, but why do that when I know they have my back", said Bill. Customers appreciated having the opportunity to try out equipment and materials and ask questions before making purchases.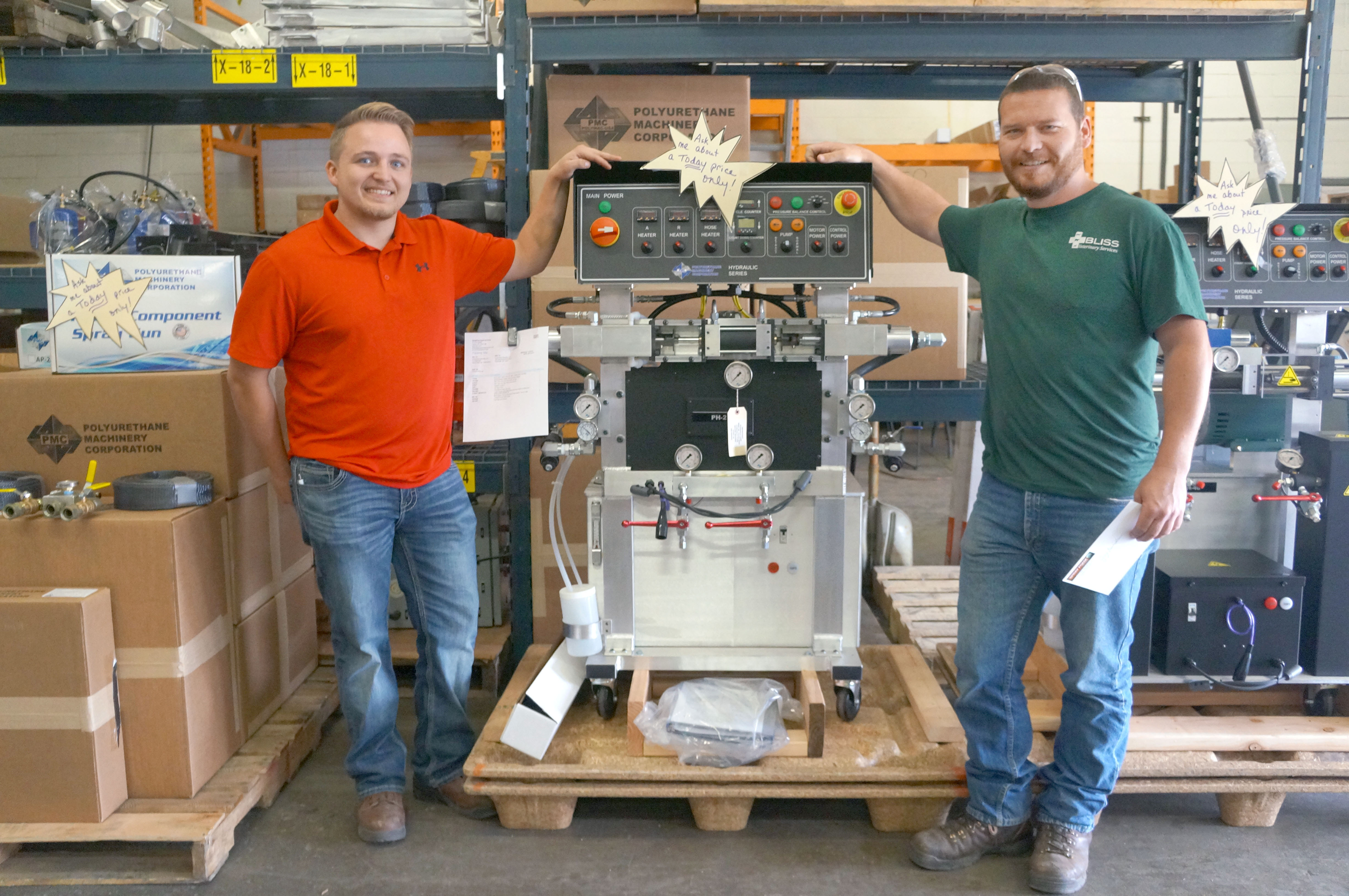 Joey Kopp (L) and Billy Dryden (R) pose along side PMC's H-40 Spray Foam Machine—Their favorite "work companion". Joey and Billy work for Lauren Manufacturing Company, in New Philidelphia, Ohio. They use PMC's machine every day on the job, insulating commercial barrel coolers. "We wouldn't use any other machine. It does a great job for us," said Billy. "We really enjoy what we do", said Joey.
Hosting a customer appreciation day is a great way to get to know customers first-hand and understand their needs. It provides new and established customers with a relaxed atmosphere to ask questions, experience new equipment and spray materials at their own pace. Hosting a Customer Appreciation Day was the brainchild of Jennifer Davidson, Marketing Director for SprayWorks.
Company owners who would like to find more ways to impress their customers should consider hosting a customer appreciation day. It's a great way to get to know customers on a personal level and provide them with the opportunity to try before they buy. Moreover, it provides a venue in which both company owners and customers will surely enjoy themselves!
For more information about Sprayworks Equipment Group, contact 330-587-4141.