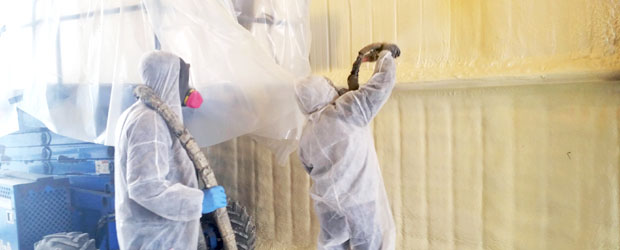 Obtaining proper training to become a spray foam applicator or enhance your current skills is not only a must, it is an on-going learning process. Not getting the proper training, or not continuing to up-date technical knowledge and skills, puts spray foam businesses at risk. Safety training for you and your employees is crucial to maintain industry standards, stay in compliance, stay competitive in the market place and operate efficiently. Every spray foam business should be familiar with OSAH safety standards. OSHA offers free training to obtain industry safety standards. Good safety training can make the difference between the success or failure of your entire business. Otherwise, your business is at risk for financial and/or safety liabilities.
Proper Training for Equipment Operation
It is important to receive proper training for any new or used equipment purchases. Buying equipment that you are unfamiliar with can cause unexpected delays on the job site and can put a damper on business opportunities. It is best to purchase equipment from a reputable manufacturer, distributors, dealer or suppliers who will provide hands-on training and stand behind their products. Most provide free training with the purchase of the equipment.
Proper Training for Spray Foam Material Products
There are many avenues for obtaining expert spray foam material certification and/or keeping current with application practices. Material manufacturers often offer certification to properly apply their spray foam products. Material manufacturers have different formulas that use different raw materials and have somewhat unique properties. While the difference may be minor, each requires an understanding of application protocols. Being familiar with these protocols is crucial for application success. Most SPF manufacturers have their material tested by the International Code Council Services (ICC-ES). These findings are summarized in an Evaluation Service Report (ESR). Understanding how to obtain the proper R-value versus the application thickness in conjunction with the specified building codes is a science unto itself. Most spray foam materials are classified under two categories--open and closed cell. Before you purchase spray foam material, ask if certification for material application is included.
The Value of Certifications
Obtaining certifications enhances your skill level and allows you to build a portfolio that can be used to sell yourself to customers. It gives your company a competitive edge in bidding projects and builds trust with the public. Moreover, the process of obtaining certifications allows you to build relationships with people and organizations that can be of help to you as the need arises.
What the Experienced Spray Foam Applicators Are Saying
Those who have been in the spray foam business for 20 years or more will tell you that learning the spray foam business never stops. Each job is different and offers a unique set of challenges. It's a good idea to have a go-to person to consult with when encountering an unfamiliar situation.
List of Organizations That Offer Training
In addition to free training from material suppliers, OSHA, and companies that sell equipment, there are several organizations that provide in-depth, multi-level certification training that is recognized by the industry. The following are a some of the main organizations listed in alphabetical order:
ABAA: Air Barrier Association of America abaa@airbarrier.org
American Chemistry Council spraypolyurethane.org
ICAA: Insulation Contractor's Association of America icaa@insulate.org
NRCA: National Roofing Contractors Association nrca.net/Home/Contact
SPFA: Spray Polyurethane Foam Alliance sprayfoam.org/contact-us