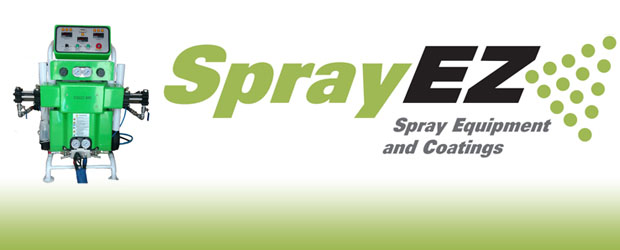 SprayEZ is a leading innovator in the spray foam and coatings industry. We offer DIY and professional polyurea products, proportioners, spray foam materials and accessories. Some of our products include RockHard Bedliners©, SiliconeSeal 3000 topcoat, BlastJacket©, BallisticJacket©, and ExpandoThane©. SprayEZ continues to stay ahead of the competition with both spray materials and our own line of SprayEZ proportioners. With a continually growing market and demand for more suppliers, SprayEZ takes pride in customer service and delivering reliable products to DIY and professionals alike.
We are excited to offer one of our signature proportioner packages, the SprayEZ 3000. This is an air machine that can spray ANY 1:1 material and will do it at 30lbs per minute, depending on the spray tip used. The SprayEZ 3000 has twin 6000 watt heaters, 150' of heated hose, 2 divorced series transfer pumps, professional spray applicator and necessary hoses and connectors. It only requires an air compressor capable of 130psi @ 30cfm and power.
Our SprayEZ 3000 is a dependable workhorse that has been tested rigorously and continues to outperform other models available on the market today. The proportioners are built in Yulee, Florida making it very accessible for parts and service. One of the benefits of partnering with SprayEZ is that our service and sales staff answer calls until 11:30 pm EST, no one else in our industry provides that.
Our continued success and growth is based on our ability to bring to the industry a complete ONE STOP SHOP with 2 component spray products. Whether you're just beginning in the spray foam industry or you are a seasoned professional looking to expand we have it all. Visit us or call to get complete rig packages, training, maintenance and all materials needed to be successful in this industry. We offer all this online at www.sprayez.com or in our Florida and Oklahoma locations.
Spreading word of your business by mouth is a thing of the past. Having a website is crucial for long-term success. Don't wait until the last minute to develop a website. It takes time for new websites to rank well on the search engines. Having a website will make your business look credible and professional, and it will increase your chances of getting job leads help expand your business. A website makes you more accessible to customers. These days, websites should be mobile-responsive. More than ever before, busy customers are using their cell phones, iPads, and other mobile devices to do their shopping. Being active on social media is also important. The more you get the word out, the better your chances of getting the job leads before they reach your competitors.
PMC? GRACO? No problem, we are a PMC authorized dealer and provide Graco products.

Visit our website at sprayez.com and let us know how we can help you.