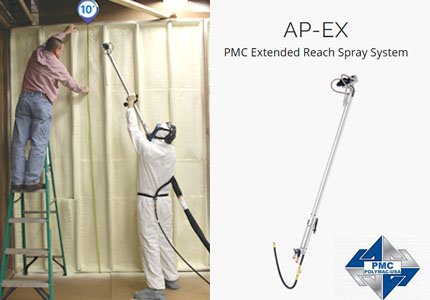 Traditionally, spray foam, polyurea and other coating industry technology has depended upon the hand-held spray guns to accomplish their spray applications projects. But, the new AP-EX Spray System is literally changing the way coatings can be applied. Spray applicators have discovered that the AP-EX is faster, more efficient, and much safer than traditional methods. In fact, company owners and spray applicators have reported that the AP-EX Spray System has allowed them to take on difficult jobs that they could not otherwise have accomplished.
Crawl Spaces and Confined Spaces
In many cases, workers can spray into difficult, awkward and dangerous crawl spaces or confined spaces without entering them. The AP-EX can be set to spray at 45 degree and 90 degree angels. This means that applicators can do a more thorough job of insulating; thereby, reducing energy costs for their customers even further. It also means that they can take on those difficult jobs that they have had to turn down in the past.
Maximizing Safety
PMC is dedicated to making spray applicators safer on the job. The AP-EX Spray System provides applicators with an extend reach of as much as 10 feet, allows access into awkward crawl spaces, and can fit into a variety of hard-to reach areas beyond the limits of that the human arm. The AP-EX Spray System eliminates worker fatigue from climbing up and down ladders and scaffolding all day. A tired worker is much more likely to sustain an accident. Leaning out on ladders and scaffolding can be highly dangerous. The AP-EX Spray System virtually eliminates the need for workers to lean out or vicariously extend their reach in high places.
Maximum Efficiency
Spray foam company owners and applicators report that they can complete projects in record time because they don't have to lose time unloading, assembling, climbing and moving scaffolding or climbing endlessly up and down ladders. Spray crews experience less fatigue, which reduces down-time and increases productivity. The AP-EX Spray System comes with a spray gun and universal coupling block assembly to fit any spray foam or polyurea machine. Other name brand spray guns can also be attached. It's a great way to complete the tool box of for spray foam or polyurea rigs.
More Business Opportunities for Spray-Applied Applications
Spray applicators are always looking for ways to expand their businesses. Spray foam company owners and applicators report that, by using the AP-EX Spray System, they can bid and perform spray application jobs that they could not have done in the past by using traditional spray methods. The applications for the AP-EX are only limited by the imagination and are continuously being discovered.
What People Are Saying About the AP-EX Spray System
Spray Foam Insider interviewed spray foam applicators about the AP-EX Spray System's performance. Respondents were invited to express their honest opinions and provide feedback regarding their first-hand experience using the AP-EX Spray System. Here is what they had to say:
"I have used it [AP-EX Spray System] for special situations that required getting into hard-to-reach places. One job was spraying foam in an electronics control room. We had only 1 1/2 feet of space to spray between the walls and the electrical components. If we wouldn't have had the AP-EX Extended Reach, we couldn't have taken the job. It's a good tool to have in your tool box especially for those hard-to-reach applications. I've had no issues with its performance."
- Dwight Koehn, Spray Foam It

"It's [AP-EX Spray System] a good, handy spray gun. I use it to spray 12 foot ceilings as opposed to climbing on scaffolding. If someone falls from a scaffold, they're going to get hurt, so using the AP-EX is much safer. I like the fact that it can turn 45 to 90 degrees, so I have used it for sharp pitches in attack and crawl spaces. I wouldn't have been able to reach those areas without it. You're only as good as your tools, and it's the right tool for high and tight places."
- Dell Schneider, Manitow Insulation
"My spray foam applicators like it [AP-EX Spray System] because they don't have to get up on scaffolding and ladders. It saves time and wear and tear on my crew because they don't have to constantly climb up and down. This makes it much safer too. We're able to get to those hard-to-reach places while foaming walls and other structures."

- Mark Estrada, AmeriSeal & Restoration, LLC
"It [AP-EX Spray System] works great for reaching high and eliminates ladders and scaffolding. It's much more efficient to use and saves time on the job. We save a lot of time because we don't have to set up scaffolding, and there's no climbing up and down ladders. It definitely helps keep my employees safer. We like it! In fact, we will be looking to purchase another one."
- Tony Schrock, Capital Coating
"It [the AP-EX Spray System] performs well, and it pays for itself because of the ease of getting into high and tight places. I don't have to assemble scaffolding or use a scissors lift. I originally bought it for a special job because the customer couldn't move all the displays in his building. With the AP-EX Spray System, we were able to work around the displays and maintain the isles. Since then, we have used the AP-EX Spray System on several jobs. It saves time, and we don't have to lean out of lifts which can be dangerous."
- Erick Kane, Global Contracting & Painting
"Designed With the Customer in Mind"
Gathering information on the performance of new products can be an eye-opener. Conducting these interviews brought to light first-hand accounts of the many ways in which people are benefiting from the AP-EX Spray System. And, more importantly, they are accomplishing their work more safely than ever before. According to the interviews, PMC has hit a home run with the AP-EX Spray System. Their motto, "Designed with the Customer in Mind" has proven that they have delivered a technology that is being enthusiastically embraced by the industry.
Jay Davidson, Writer/Editor
Spray Foam Insider