Air Equipment and Repair, Inc. is an authorized PMC and Graco distributor and warranty center. With over thirty years in the spray foam industry, we can provide sound customer service along with technical support. Most of our employees have been with us for over twenty five years.
What You Can Expect from Us:
Product knowledge in all facets of spray foam equipment
Fair prices and uncanny customer service
Personalized service unique to each customers' needs
Air Equipment and Repair is an authorized distributor and warranty center of PMC and Graco equipment in San Antonio, TX. We provide sales and service to the spray foam industry. Our spray foam rigs are built to order and are completely customizable to fit each customer. We realize your business is unique and one of kind and your equipment should reflect that. We also have an online store featuring spare parts, heated hoses, accessories, and more and offer free shipping on orders over $250.
Technical Support
All of our service representatives are knowledgeable, some with over forty years of experience. We provide over the phone trouble shooting, in house repair and warranty work, job site training, equipment installation and start-up, as well as one on one training sessions.
Customer Service
At Air Equipment and Repair, we pride ourselves on providing our customers with service unlike anywhere else. Here you can find fair pricing, quick response to emails and other inquiries, product knowledge, and delightful demeanor from any of our inside sales representatives. Warranty support, shipping inquiries, and mush more are just a phone call away.
618 Avenue E
San Antonio, TX 78215
Toll Free: 1-800-677-3487
Local: 210-223-3157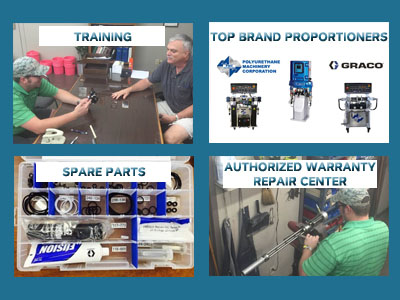 ---