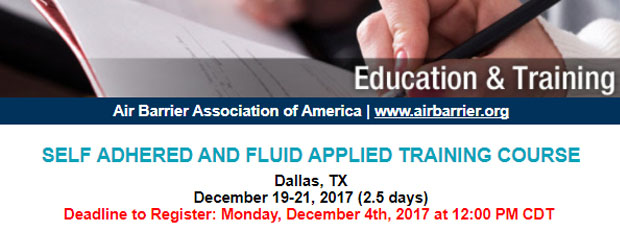 Self Adhered and Fluid Applied Training Course
Dallas, TX
December 19-21, 2017 (2.5 days)
DEADLINE TO REGISTER IS: Monday, December 4th, 2017 at 12:00 PM CDT.
Description
This course includes instruction on everything from selecting proper materials, substrate preparation, application technology, troubleshooting, and hands-on training.
Not an Installer?
ABAA courses are open to everyone and are a great training opportunity for all, including General Contractors, Suppliers, Manufacturers sales rep, Architectural Reps, and anyone in the construction industry. There is NO experience needed to attend one of our great training courses.
Interested in Certification?
For certification purposes, a minimum of 3000 hours of work experience (a minimum of at least 1,500 hours directly in SPF experience is required) with air barriers or in applicable related trade experience is required.
For companies seeking to become ABAA Accredited Contractor, it is ABAA policy that each company has at least 1 person trained in an ABAA Installer Training Course and certified as an ABAA Level 3 Installer, and at least 1 person trained in the Quality Assurance Program Administrator Course.
This can be the same individual.
Quality Assurance Program Administrator Course
The administrator course delivers an overview of the ABAA Quality Assurance Program, contractor and installer obligations, project reporting, as well as provides an introduction to air barriers, materials, building code requirements and more.
This course is 3 hours in length and is offered in the evening of the first day of installer training.
CLASSROOM LOCATION:

Demilec
3315 E Division St
Arlington, TX 76011
HANDS ON FACILITY LOCATION:

SAME AS CLASSROOM
RECOMMENDED HOTEL:

Holiday Inn Express & Suites Arlington (Six Flags Area)

Call +877-640-5454 to make your room reservation
RECOMMENDED AIRPORT:

Dallas/Fort Worth International Airport (DFW)
Attendees are responsible for travel and hotel costs.
Questions? Please email us at training@airbarrier.org
Register Now! Our training courses have limited spots. Please submit form by email
We hope to see you there!