The 2017 ABAA Conference and Trade Show achieved a record high attendance of 460 attendees. Training courses were filled to capacity. Spray Foam Insider, an approved ABAA media provider, covered the conference. They had an opportunity to interview some of the ABAA officials, companies, contractors, instructors and students who were in attendance of ABAA conference and training courses. Spray Foam Insider is honored to share some of these insightful interviews.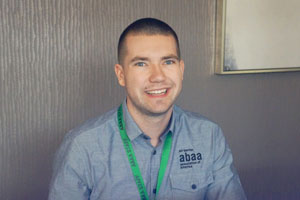 Keenan Reimer, ABAA Membership and Accreditation Specialist, explains the benefits of ABAA membership such as certification, accreditation, technical support and project referrals. ABAA membership is often required for many project specifications as ABAA has a recognized reputation for maintaining the professionalism and integrity of the industry. "It's important to understand the difference between accreditation and certification. Companies become accredited while individuals become certified. Individuals who obtain certification are certified no matter where they work," said Keenan.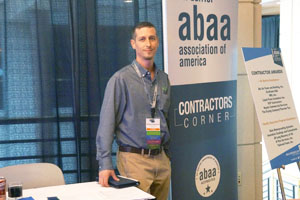 Mathew Giambrone, Estimator and Project Specialist for OCP, recently won the ABAA Excellence Award. "As an ABAA member, the ABAA has always been there for me whenever I had a technical question. Knowing that help was just a phone call away gave me the confidence to succeed. I'm always looking to learn and improve my skills. The training courses and support I received from ABAA took me where I wanted to go. I'm now celebrating seven years in the spray foam business," said Mathew. Mathew explains how he got involved in the ABAA: "When I started to bid my first spray foam project, the project specifications required ABAA accreditation and certification. In retrospect, it was completely worth the investment of time and money to become certified and accredited. It was the best move I ever made" said Mathew.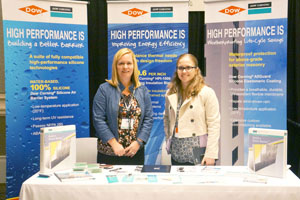 Dow Corning Corporation: Andrea Wagner, LEED Green Associate, Application Engineer (L) and Joy Govitz, North American Market Manager (R), inform ABAA attendees about a new high R-value performance product.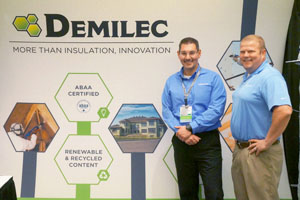 Demilec: George Trawil (L), Director adjoint Marketing & Marketing Director and Grant Ostvig (R), Senior Regional Manager, explain their company's new Heatlok© Air Barrier System.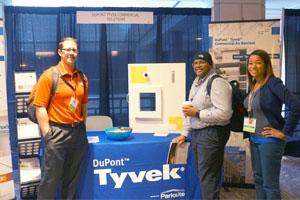 DuPont™: Carrey Bell, Sales (L), Andrew Miles, Field Support Engineer (CT), and Faran Steed, Marketing Director (R) provided ABAA members with information on Dupont™ products. Excitement was in the air about an innovative product coming in June.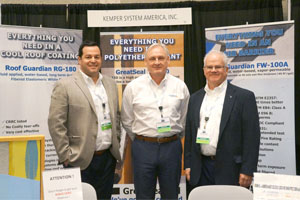 Kemper Systems America, Inc. Brett Steinberg, National Sales Manager (L), Richard Doornink, Marketing Director (CT) and Jim Arnold, Director of Product Development (R) were eager to answer questions about building envelope solutions, including waterproofing systems, roofing systems and surfacing systems.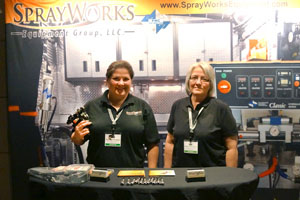 SprayWorks Equipment Group: Jennifer Davidson (L) sports PMC's AP-2 Spray Gun. Debra Davidson (R) was on hand to explain the benefits of the Barrel Blazer drum heater and answer questions about product specials. SprayWorks builds custom spray rigs and is a supplier of spray foam and polyurea equipment, materials, training and supplies.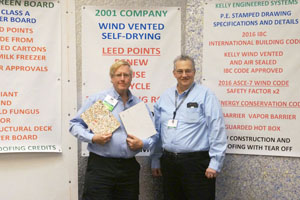 2001 Company: Tom Kelly,President (L). Tom is also President of Kelly Engineered Systems. Heis an inventor and designer of Wind Vented℠ and Air Sealed℠ Roof Application Techniques. Richard Mazzei, Accounting (R) and Tom display their innovative Kelly Green Board℠ which is made from 100% recyclable materials. The panels make the perfect building material, including re-roofing over existing ballasted membranes over EPS insulation. It is also a UL class A fire barrier and weight cover board for a new waterproofing membrane.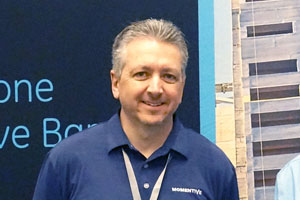 Momentive Performance Materials, Inc: Doug Phelps, Architectural Development Manager. This global company offers siloxane polymers including additives, such as silanes, specialty fluids and urethane additives. The company also offers formula products including elastomers and coatings which can be formulated according to customer needs.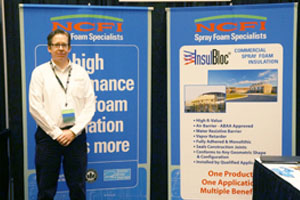 NCFI Polyurethanes: Jason Hoerter PE, Senior Product Manager, explains how NCFI does it all: manufacturing spray foam materials for every need and providing it direct to contractors, custom spray rigs, training, equipment and supplies. NCFI is the oldest manufacturer of spray foam in the united states.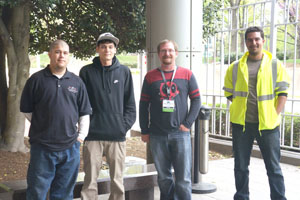 Students earning their ABAA certifications and learning what it takes to succeed. Chris Collins (far L), and Ronny Clagg (L) Cameron Group, LLC--Barrett Worley (R)--The Drying Company and John Calhoun--Royals Commercial Service, enjoying a quick break during their ABAA training courses.
What Students Had to Say About Their ABAA Training Course Experiences:
"I like the course because I'm gaining a lot of practical knowledge that can be applied immediately on the job," said Chris Collins and Ronny Clagg.
"I'm learning a lot about new products and how to use them. The course is definitely worth it," said Barrett Worley.
"I really feel that the course is sharpening my skills. I'm breaking old habits and building new confidence," says John Calhoun.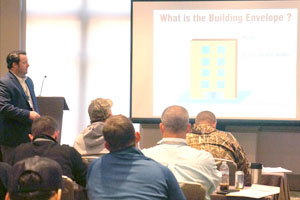 Kevin Brennan, ABAA instructor for the Self-Adhered & Fluid Applied Training Course, discusses building envelopes with students during this segment of the course.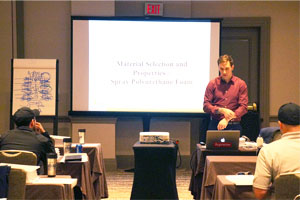 Chris Newhook, ABAA instructor for the Installer Training Course, discusses material selection and properties during this portion of the course.
The vibe at the ABAA conference was highly positive. Everyone was friendly, informative and eager to share their knowledge and experience. No question was too big or too small to elicit a perceptive, amicable response. Just being there was an eye-opening, learning experience. The many new products on display promise an exciting year toward a better and brighter future for the air barrier and associated industries. This year's ABAA conference was definitely a big hit! Contact the ABAA to learn about the benefits of becoming a member.
For more information contact airbarrier.org