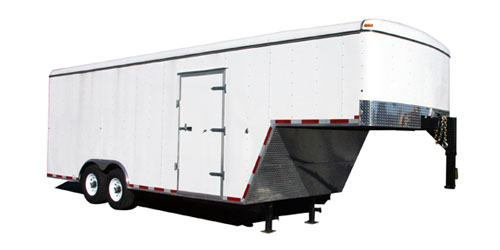 Informed buying is the best approach to selecting a trailer for a spray foam rig. Most spray foam rigs use enclosed trailers, so that they can house all of the tools, equipment, hoses, heaters, drum material, and generator securely and can be locked up safely. Moreover, vital equipment can be kept clean and dry regardless of weather conditions. Choosing the right trailer can be a daunting task. Understanding the important considerations necessary for a spray foam rig will definitely save the purchaser time, money and future headaches.
Gooseneck trailers are a popular choice for spray foam rigs. However, there are many styles and sizes to choose from. Understanding the space, arrangement and overall layout of equipment ahead of time will make choosing a trailer much easier.
There are two main axel designs: Leaf Spring and Torsion axels. Leaf spring axels are usually less expensive and more common than torsion axels. Torsion axels generally require less maintenance and provide a smoother ride. The following is an overview comparison:
| LEAF SPRING AXELS | TORSION AXELS |
| --- | --- |
| Less compact | More compact |
| Use a series of metal springs | Use rubber springs |
| Takes up more space and adds weight | Takes up less space and less weight |
| Can be repaired | Cannot be repaired |
| Requires more maintenance | Requires less maintenance |
| Ride is less smooth | Ride is smoother |
| Preferred for heavier loads | Preferred for lighter loads |
| Weight equalization | No weight equalization |
| Perform better in extreme cold | Less elastic properties in extreme cold |
| More ground clearance | Less ground clearance |
| Less expensive | More expensive |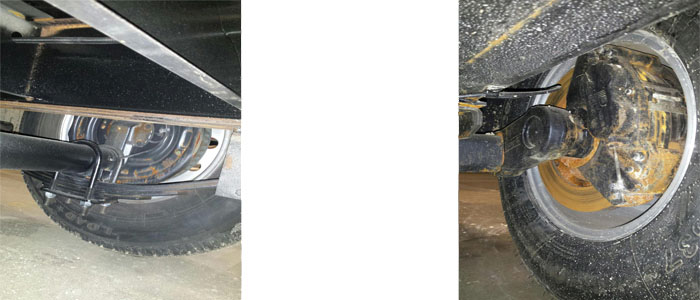 Leaf spring axels are generally more dependable for even tire wear and a steady ride. If the trailer is stored on uneven ground, the leaf spring axel will hold up better over time. Torsion options for better long-term wear exist; however, this requires an up-grade. Both types of axels work well. The choice is a matter of personal preference and budget limitations.
Tandem versus single axel: Tandem axels can be more costly than a single axel; however, they can haul heavier loads and are safer and more stable at higher driving speeds. Tandem axels also protect against a blown out tire since the remaining tires will compensate until the flat tire can be replaced.
The weight the cargo the trailer is intended to haul is important. Any loads over 3000 pounds will require dual axels and should come with brakes to prevent accidents or damage to equipment should stopping abruptly occur. The most common weights are 3500, 5200 and 7000 pounds.
Most trailers come with single or double doors and/or a side door to access the generator. Keep in mind the layout of how the equipment is arranged inside the trailer. Not only for easy access to important equipment components, but how the weight of how the payload is distributed is vital. (60% of the payload is in the front of the trailer and 40% of the payload to the rear) This is so the vehicle tows correctly. So placement of the spray foam equipment and its components including spray foam insulation materials should be considered.
Trailer brakes are another important consideration. For loads in excess of 3000 pounds, consider equipping the trailer with trailer brakes. Some states require trailer breaks at certain load capacities. Always check with your local Department of Motor Vehicles for the equipment and licensing requirements for the state in which you reside.
Most cargo trailer come equipped with adequate exterior trailer Lighting. Keep in mind that exterior trailer lighting is a safety requirement. Interior lighting is important for spray foam rigs, so that gauges and material levels can be monitored accurately and to allow workers to perform other day-to-day tasks that are required inside the trailer. Not all cargo trailers offer interior lighting. Be sure to ask whether or not the trailer you wish to purchase comes with interior lighting.
If you don't own a forklift Ramps vs barn doors trailers are important for getting machinery, hoses, and materials into and out of the trailer efficiently. A wide, fold-down ramp works well for spray foam rigs. Some cargo trailers are not equipped with rear ramps or closure gates. Purchase a trailer from a reputable, establish dealer who is willing to answer your questions and listen to your specific requirements. Lastly, consult with the United States Department of Transportations for all safety regulations and requirements.