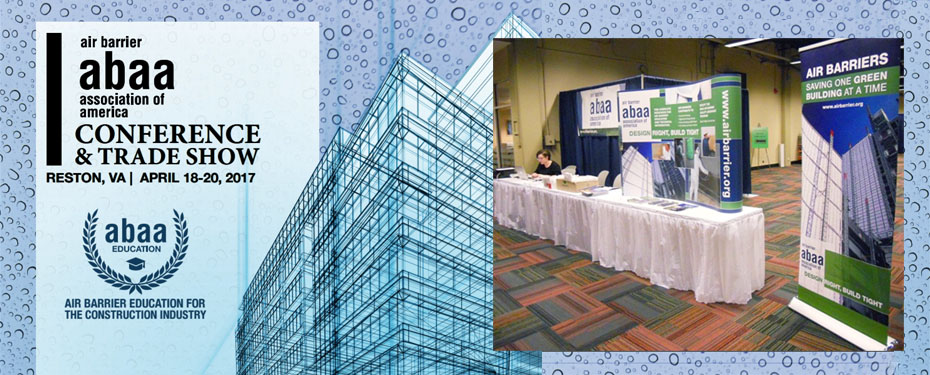 The Air Barrier Association of America is holding their 6th annual conference and trade show April 18th through the 20th, 2017 in Reston, Virginia. The ABAA conference offers comprehensive learning tracks and workshops for design professionals, general contractors, air barrier contractors, consultants and testing labs. Members and attendees can register for valuable training and certifications, such as Sheet & Fluid Installer, SPF Installer, ABAA Auditor Training and QAP Administrator Training. An off-site, hand-on training component will also be available.
Don't miss this important opportunity to attend expert workshops, obtain certifications, meet exhibitors, and network with key people to further your company's mission for success.
Key Note Speakers to Deliver Important, Up-To-Date Building Science
The ABAA has selected important knowledgeable and experienced key note speaker to keep its members and attendees in the know about optimizing building performance for new and existing buildings. Understanding building science prevents building failures and provides a guide for learning new techniques and applying new technologies. The following topics include:
Roof-Wall Interfaces and Detailing
Understanding the New ASTM Commissioning Standards
Building Science and Proper Building Enclosure Design
Building Science and Airflow in Buildings
Expert Presenters to Provide Air Barrier Education Workshops
Air Barrier Pre-Installation
How to Design Effective Exterior Walls
New Durability Findings from Air and Water Barrier Testing
Air Barrier Training for Owners, Architects, Construction Managers and General Contractors
Design of a Shelf Angle
Big Air - Building Air Barrier Testing
Air Barrier Integration - Avoiding Pitfalls
Managing Project Specific Details: Collaboration between the Design Professionals and Product Specialists
Air Leakage Testing Practices & Procedures within Building Enclosure Commissioning Process
Designing and Detailing Air Barrier Connections at Window, Curtain Walls and Storefronts
Risk Management for Building Enclosure
Web-Based Tool for Estimating the Energy Savings of Air Barrier Systems
Meet Exhibitors from Around the Country
Approximately 40 exhibitors will be present this year. This is an opportunity to learn about new products and services and meet the people, in person, who provide them. Building relationships with distributors, suppliers and venders can save companies a lot of time and money, as well as provide an opportunity to gain valuable insight into what's happing in the industry. Visit the ABAA website to learn more about exhibitors.
Investment in Your Company's Future and Stay Ahead of the Competition
Customers depend on companies for their integrity, knowledge and expertise, which builds trusting, long-lasting relationships and repeat business. Training certifications are fast-becoming the norm and will improve your company's ability to compete more easily in the market place. Stay up-to-date on what's happening with new technologies, application techniques, project specifications, requirements and expectations. Last year's conference saw over 450 attendees, and the 2017 conference is expected to surpass that number. Exhibition booths are available on a first-come-first-serve basis.
ABAA Contact Information:
For more information about obtaining ABAA membership, an exhibition booth,
sponsorship and attending the 2017 ABAA conference and trade show, contact the Air Barrier Association of America:

Website: airbarrier.org
Email: abaa@airbarrier.org
Phone: +1 866-956-5888