Taking the Lead in the Industry for Respiratory Safety and Protection!
The Tennessee Chill Box CB8000 is an innovative, comprehensive, air-conditioned respirator system that provides cool relief in hot situations. Now, you can keep workers safe from dangerous heat stroke, heat exhaustion, dehydration, nausea, fatigue and reduce downtime from the need for frequent breaks. The Chill Box has a 14 year proven track record.

Features:
Single or Dual man system
Can utilize up to 200 feet of air hose for each air line
110 Volt/15 Amp Electric Requirement
CFM Output - Regulated Speed Control
Digital Control Panel - temperature and adjustment display (Ambient vs Actual)
Exterior Manifold to allow for single or double air lines
Does not use compressed air - eliminates the need for air compressors and repair parts
Washable, re-useable panel filters
No expensive calibration or testing required
Durable Construction
Easy to set up and use
Virtually maintenance
Benefits:
Supplies fresh, cool, breathable air
Reduces the potential for heat stroke, heat exhaustion and fatigue
Maximizes productivity - fewer breaks means less down time
Eliminates noxious fumes typically associated with traditional respirator systems
Can be used with hoods, ratchet respiratory shield or full faced mask
Can be used with your own mask, supplied mask and hood
Great for attics, crawl spaces, confined spaces, roofing and containment projects
Year-round use
Technical Support
One-year Warranty
Personalized Customer Service
The Tennessee Chill box can be used in the following industries:
Spray Foam Insulation
Polyurea Coating Applications
Polyurethane Applications
Roofing Contractors
Primary and Secondary Containment Projects
Storage Tanks
Railroad Car Lining
Tunnel Coating Applications
Epoxy Coatings
Bridge Restoration
Fiberglass Insulation
Blown-in Cellulose Insulation
Spray Painting
Asbestos Abatement
Lead Paint Removal
Blasting (Non-Silica Abrasives)
Manhole and Sewer linings
Underground Utilities
Portable Emergency Air System
Mold Removal
Other Coating Applications

9909 Blue Springs Road
Harrison, TN 37341
Phone: (423)-710-1476
Tennessee Chill Box Articles and News
---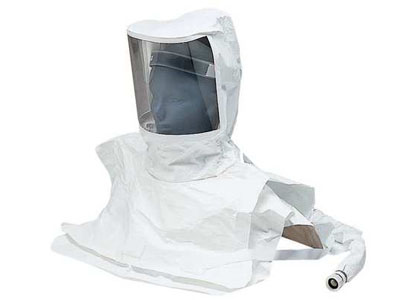 Disposable Hood/Head Harness
#9911-10 $95.00
Double Bib Hood, Mask Size Universal, White, Material Tyvek(R), Suspension Disposable (1) Piece Assembly, Absorbent Foam Headband, Hook and Loop Closure, Includes Hood, Suspension, Breathing Tube, Standards NIOSH Approved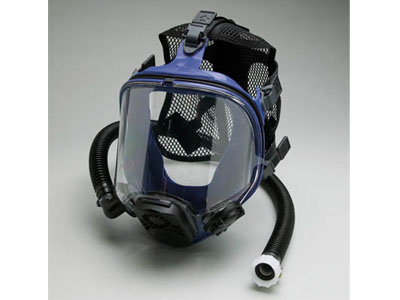 SAR Full Face Mask, High Pressure
#9902 $325.00
This comfortable full mask offers high pressure continuous flow protection with a unique over the shoulder hose design and an adjustable belt holds the hose and airflow valve out of the way.

TC-19C-437 Features and Specs:
• Replacement High Pressure Full Face Mask Supplied Air Respirator
• Unique over the shoulder hose design
• Adjustable belt that holds the hose and airflow valve out of the way
• High impact, anti-fog, distortion-free polycarbonate lens
• Double sealing flange and deep chin pocket for perfect fit and seal
• Large diameter contoured exhalation valve
• One Size Fits Most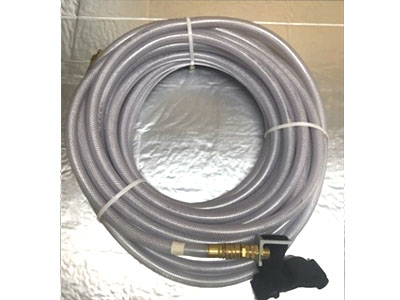 100' Airline EZ Flow Hose
#9100-100EF $360.00

50' Airline EZ Flow Hose
#9100-50EF $245.00
The maximum length users can use are as follows:

*One mask or hood can use 50' to 300' length of hose in combinations of 50', 100' 200' and 300'.
*Two masks or two hoods can use 50' to 200' length of hose in combinations of 50', 100', and 200'.
*Hoses can be coupled together to reach the required lengths as mentioned above but only in max combinations of 3.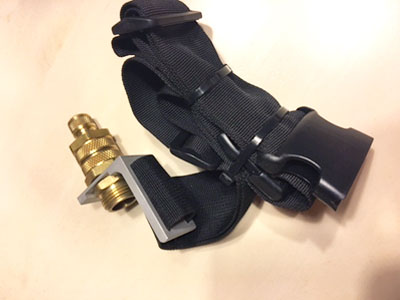 EZ Flow LP Flow Adapter/ Waist
Belt Assembly
#9910-11EF $85.00
For use with #9902 SAR Full Faced Mask, #9911-10 Hood, #9911-20 Replacement Hood.