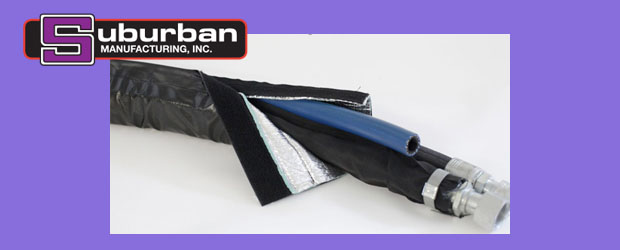 Contractors are always looking for better ways to get the job done faster, save money, make the customer happy, and stay ahead of the competition. Maintaining optimal hose heat makes a big difference in how efficiently and effectively material is applied. Ragged, worn hoses are a big source of heat loss. Heat loss from faulty hoses affects every aspect of the application process. It can mean the difference between doing a great job in a short amount of time and the risk of doing a fair job that takes a lot longer and costs more.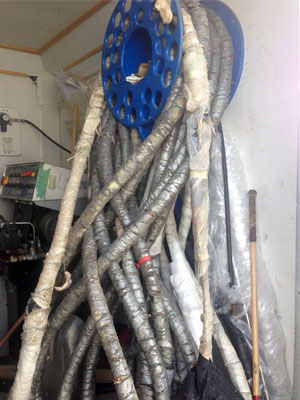 Traditional Hose Sleeve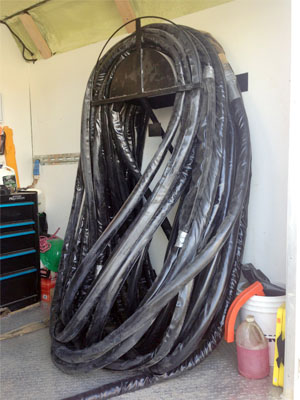 Suburban Sidewinder Hose Sleeve
Traditional Hose Protection Versus the Sidewinder SPF Sleeve
Traditional hose protection, guards, sleeves and jackets wear out from dragging hose bundles over many types of rough surfaces, again and again, and feeding them through and around all kinds of abrasive obstacles. The continuous wear erodes many different types of protection used throughout the industry, such as "back-rolling duct tape". Many times, hose bundles will need to be re-patched after almost every job due to the extreme abuse they take in the field. Contractors are well aware that exposed hoses and couple wires give way to further damage, potential heat loss and other problems. Some contractors resort to cranking up the heat on their proportioners to compensate for this heat loss. This can be extremely costly over time, including the wear on the equipment and/or chemical yield loss. Contractors know how expensive it is to replace hoses and the components that are critical to their operations. For years, contractors have struggled to find a way to protect their hoses and reduce the amount of repair time so they can get to the next job.
The Problems with Installing Traditional Hose Protection
Covering SPF hoses with traditional tubular sleeve is like trying to put socks on a snake! The method most often used to install hose sleeves is exhaustive trial and error…and an extreme amount of colorful language! Hoses and sleeve are usually sold separately, so the sleeve is often not installed on the hose when it arrives. It can be a frustrating, time-consuming task to install a traditional hose sleeve, which culminates into more time lost and more money spent.
The Solution: The Sidewinder SPF Sleeve
The Sidewinder SPF sleeve has revolutionized the way hose bundles are protected and provides thermal retention. Many contractors are saying it is the one of the biggest breakthroughs the industry has seen for 15+ years. It's a "smart" sleeve that keeps spray foam material warmer for significantly longer periods of time. That translates into better material performance or "spray-ability", which reduces the overall costs of chemical consumption. Besides the standard 50-foot SPF sleeve, Suburban manufactures two other sleeve sections for a complete hose bundle solution: a three-foot coupler guard and seven-foot whip hose section. The coupler guard protects the sensitive joint sections and accommodates the larger diameter of that junction point. The whip hose section not only is less bulky than other industry protection, but it also provides a more ergonomic-friendly way for sprayers to manage their whip hoses.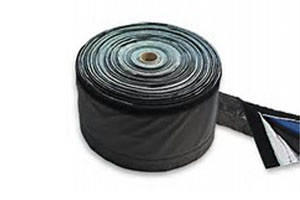 Suburban Sidewinder Hose Sleeve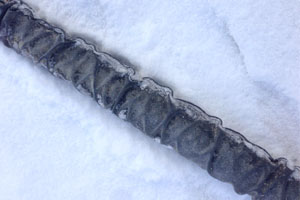 Tested under extreme conditions
A Wrap-Style Sleeve That's Easy to Install
All you need to do with the Sidewinder is wrap it! It couldn't be easier. The heavy-duty Python straps allow the sleeve to be "anchored" to the hose bundle, which prevents the sleeve from bunching or sliding down on the hose. A contractor can install 300 feet of sleeve in 60 minutes or less with two or more installers. The hose wrap is made in 50-foot sections that are rolled out flat. Then, the hose bundle is placed inside the sleeve. Suburban uses a mil-spec 'hook & loop' closure system that becomes exceedingly stronger when pressed together. If a section ever needs to be replaced, all that needs to be done is to replace a section of the sleeve--not the entire sleeve. Think of the savings!
How it's Made and Why It Works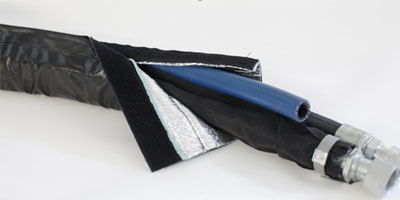 Sleeve wraps around the hose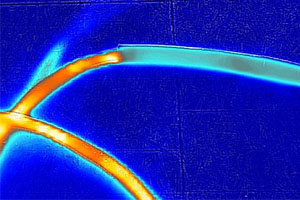 Thermal Imaging of Heat Retention
Put away the duct tape and stop losing heat from faulty hoses! The Sidewinder Sleeve is made of a miracle fabric called Denier Cordura—an exceptionally durable fabric used in the manufacture of luggage, airplane upholstery, motor sports apparel, boots, backpacks and is used extensively for military and law enforcement clothing and gear. This high-performance material has quickly grown in popularity because it is light-weight, flexible, water-resistance, oil and petroleum-resistant and has the superb ability to resist harsh abrasions, tearing and scuffing.
The Sidewinder sleeve is constructed in layers for optimal performance. It has a double urethane coating to provide exceptional strength, durability and maximum abrasion protection. Beneath the substrate sleeve is the radiant foil liner. The liner allows the heat to circulate uniformly throughout the hose. Installing the Sidewinder Sleeve on a standard hose can maximize its thermal retention by as much as 20 Delta T. Contractors have reported gaining a significantly higher yield using the Sidewinder Sleeve. And, it has been tested under extreme weather conditions, with a temperatures rating of -60F to 200F.
The Sidewinder Hose Sleeve is Contractor-Approved
The following are just a few of the testimonials provided to Suburban Manufacturing, Inc. about their Sidewinder Hose Sleeve:
"We purchased our first insulated sidewinder hose about 6 months ago, and we were so impressed with it we have ordered a second, and will continue to do so until all of our rigs are outfitted with this product. Highly recommended for anyone or any company that wants efficiency and reliability on their spray foam rig".

Tyler Stuyk, Stuyk Energy Systems, Ltd, Durham, ON
"The Sidewinder spray foam insulation hose protector has been an incredible investment. Exceptional quality, easy to attach to the hoses, insulates hoses in our cold climate. We no longer worry about our hoses being damaged when they are moved through construction areas, crawl spaces, draped on scaffolding, etc. Lisenby Spray Foam Insulation Services highly recommends the Sidewinder! Only regret, that we didn't purchased them as soon as our new hoses came".

Lisenby Spray Foam Insulation Services, North Branch, MN.
Maintaining proper hose heat is critical for all aspects of spray foam applications. The Sidewinder Sleeve offers a competitive edge over traditional sleeves. Spend more time making money and less time compensating for heat loss in your hoses.
The Suburban Sidewinder Hose Sleeve at a Glance:
Made of high-performance, abrasive-proof material
Flexible
Light weight
Form-fits to the hose
Water, oil and petroleum-resistant
Easy to install—wraps to fit
Constructed in layers for maximum heat retention
Maintains uniform hose heat
Significantly improves yield
Hook and loop enclosures
Coupling and whip hose wraps
Replaceable sections
Tested under extreme conditions
Contractor-approved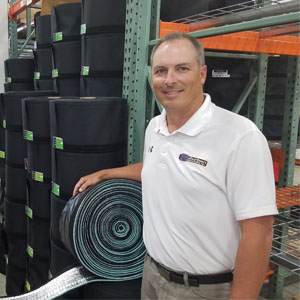 Meet Derek Larson, Business Development at Suburban Manufacturing, Inc., who initiated the R&D of the SPF sleeve.
About Suburban Manufacturing
Suburban Manufacturing, Inc. manufactures protective coverings, Tsunami Compressed Air Solutions, Lubrications Systems and performs contract manufacturing. They take pride in their innovative spirit to bring solutions to the market place.

CONTACT INFORMATION:
10531 Dalton Ave NE
Monticello, MN 55362
800-782-5752 | Direct: 763-271-3028
F: 763-295-6601
Email: dlarson@gosuburban.com
Website: gosuburban.com