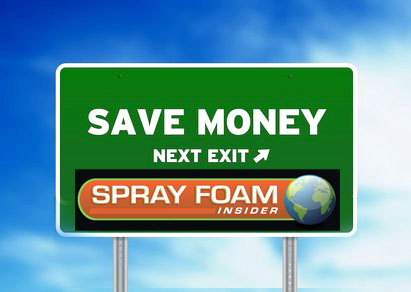 Get Acquainted with all the Services Spray Foam Insider Offers:
We don't just advertise, we actively market your products and services. And, our rates can't be beat. Place an ad for your used equipment and pay nothing until it sells. There's no contract to sign. We'll even help you construct an ad. See our free Resource Section to get the assistance you need.
Advertising
Spray Foam Insider Offers Four Types of Advertising:
Find a Contractor Section:
Our Contractor Package includes a display ad with a large landing page
Assistance with ad construction provided at no additional charge
Includes a direct link to your website
Free state listing
Find Distributor, Supplier and Manufacturers Section:
This package includes a display ad with large landing pages to include content, photos and videos. Includes a direct link to your website, 6 feature articles and 6 spots in our newsletter. Our newsletter reaches thousands of industry readers throughout the country.
Sponsorship Package:
Become approved to be one of our sponsors and get the "run of the site" with newsletter inclusion year-round, 6 feature articles and social media exposure.
Used Equipment Advertising Package:
It's time to bring back the good old days for selling used equipment. We offer the most effective, affordable and effective advertising available. Place an ad with us for your used equipment and pay nothing unless we sell your equipment! No contract, no time limit and no strings. 2% percent of the sale price is all you pay when your equipment sells, and it's on the honor system. It's the best deal anywhere. You can also advertise your company, products or services for the best rates available!
*Customer Referrals:
All packages include customer referrals at no extra charge. While we encourage customers to contact our customers directly, sometimes they call us. When they do, we refer them to our advertisers.
Marketing
Product and Service Reviews:
Did you know that Spray Foam Insider conducts independent product and service reviews? With great reviews, your business will thrive! Listening to your customers is everything. Product and service reviews are highly valuable for:
Boosting sales
Obtaining unbiased testimonials
Building customer confidence and loyalty
Defining your brand or service
Improving your product or service for greater customer appeal
Clarifying your marketing strategy
Gaining vital key words for SEO
Using information as a rating, reporting and analytic tool
Discovering new ways your products can be used or new services to offer
Product and service reviews matter to customers. You can't afford not to have this information. All information gained is strictly confidential. Reasonable rates.
Feature Articles:
Anyone related to the industry can get one free article or press release posting upon approval of the subject matter. Then, purchase an advertising package for 6 additional feature articles.
Newsletter:
Our newsletter reaches thousands of industry readers throughout the United States and other countries around the world. Don't forget to sign up for our newsletter!
Social Media:
News-worthy items or advertisers get recognition on several social media sites.
Writing Services:
Need help constructing an ad, writing professional or technical article. This service is for items you need for your website, marketing or news. Our writers have years of industry experience.
Find Important Resources
Did you know that you can also access our extensive list of free resources? Click on our resource tab to learn more.
Get Industry News
Receive year-round industry news through our organization sponsors' postings. Stay in touch with what's happing in the industry.
Find a Consultant
Need to find information about equipment, services, training or have industry-related questions? Get free advice or quotes from our network of consultants.
Testimonials
"Our company has been working with Jay from Spray Foam Insider for quite a while. This company is absolutely wonderful to work with. Jay is so personable which makes advertising with this company a breeze. They're rates are very competitive for what they deliver by way of prosperous results on the website. The newsletter, brochures and promos are always kept up to date for our company, with almost immediate responses from my email request. I can sincerely say they are always going above and beyond with what they offer our company by way in advertising options. Spray Foam Insider is a "GREAT" resource for advertising if you are looking for "GREAT" results! I would definitely recommend advertising with them if you want the best results in advertising for your company!"
Serena Asbra,
President of Tennessee Chill Box, LLC
"Jay at Spray Foam Insider knows her stuff. She has an amazing ability to understand the market and the spray foam industry. When we presented our advertisement idea to her, she took what we gave her and then went way above and beyond what we originally thought was possible. The first week that our advertisement was posted, we received a flurry of leads and they continue to come in long after the initial launch "
Regards,
Bill Collins
Spray Sealants Store
"I want to thank everyone at Spray Foam Insider for getting my spray rig sold! The advertising was very effective, and I was kept up-dated on prospective buyers. Your staff took an active role in seeing the process through to the end. I would strongly recommend spray Foam Insider to those who want to buy or sell a spray rig."
Randal Martin, CEO
The 655 Company, Colorado
Call or Email Us Today:
330-209-9019