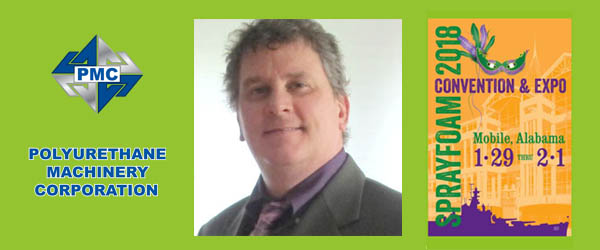 Murphy Mahaffey, Director of International Sales,
Polyurethane Machinery Corporation
"Knowing the LEED system requirements and designing around them will help make your project Platinum from the start,"
says Murph Mahaffey.
LEED stands for Leadership in Energy and Environmental Design which operates under the auspices of the U.S. Green Building Council (USGBC). Their mission is to "…transform the way buildings and communities are designed, built and operated, enabling an environmentally and socially responsible, healthy, and prosperous environment that improves the quality of life." (USGBC, https://new.usgbc.org/about, 2018). Furthermore, they provide building owners with the tools necessary to have an immediate and measurable impact on their buildings' performance. The LEED program has been adopted by state and local governments in 40 countries.
Spray Foam and Polyurea Projects Can Fall Under the LEED Category "Energy & Atmosphere"
LEED projects can achieve four rating levels of certification: Certified, Silver, Gold and Platinum based on the number of points projects achieve. The goal is to inspire teamwork toward the creation of innovative solutions that address public health, environmental health and money-savings by reducing energy consumption and costs. The LEED website contains the information for registration, which entails selecting a rating system for the project, such as commercial, residential, etc. Applicants can review the LEED certification guidelines, decide which credits to pursue and register their project online. Applicants can also view the LEED score card to select the appropriate categories for their project, such as water efficiency, Energy & Atmosphere, Innovation and whether their project falls under a regional priority. Points are then tabulated to determine which certification the project qualifies for. For roofing projects, polyurea installed over polyurethane has many advantages and can fall under "Optimizing Energy Performance" which can be found under the category of Energy & Atmosphere; however, other categories may be applicable as well.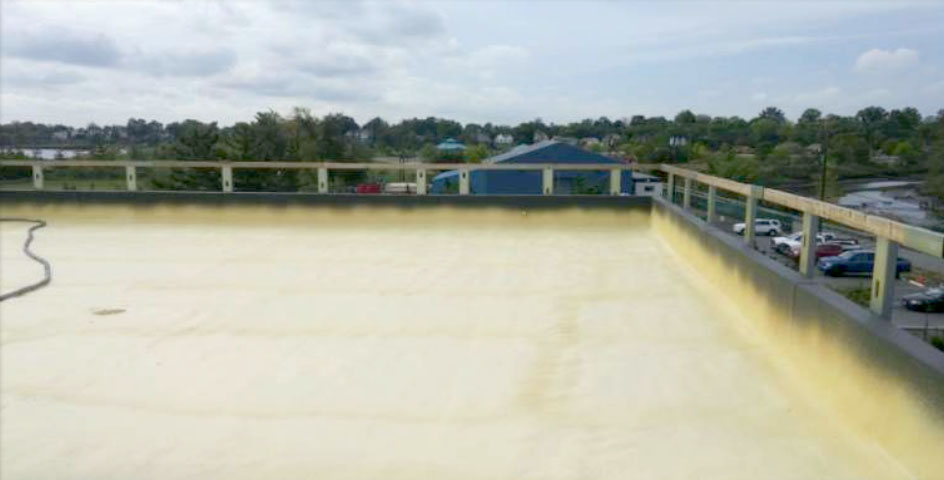 Polyurethane foam substrate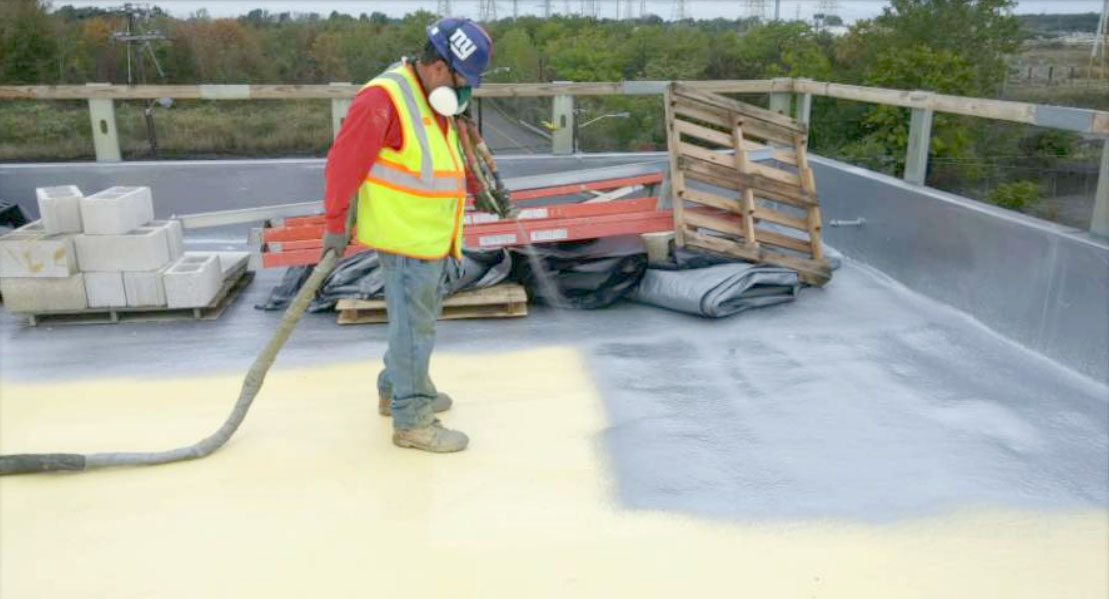 Polyurea coating over polyurethane substrate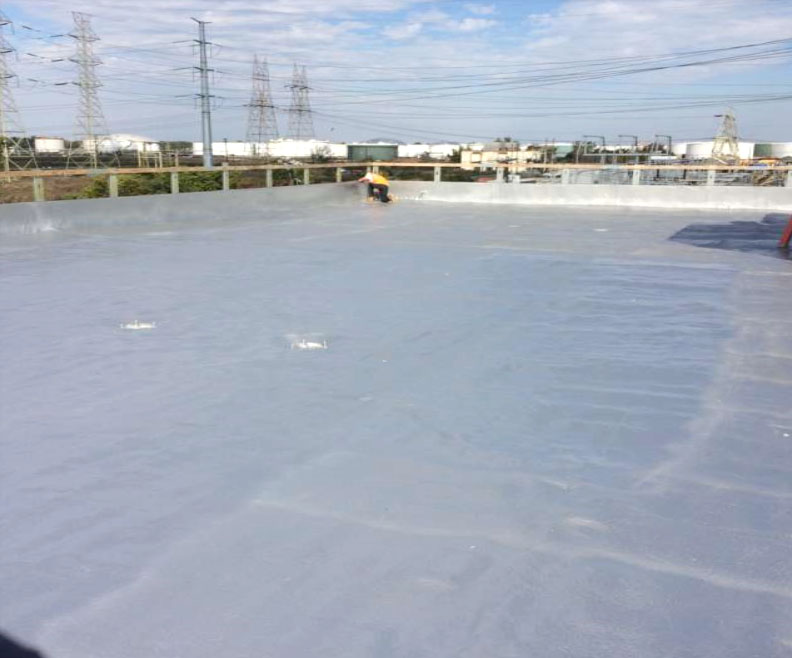 Polyurea installed over polyurethane foam substrate
Roofing project with polyurea installed over polyurethane. The advantages include a seamless application, positive slope to drain, no ponding water, the foam extends up parapet walls, it's self-flashing, monolithic and provides an air/moisture barrier. The average R-value on the project pictured above is R-68! This project falls under "Optimizing Energy Performance" which can be found under the category of Energy & Atmosphere; however, other categories may be applicable as well.
Some Roofing Projects are Going Green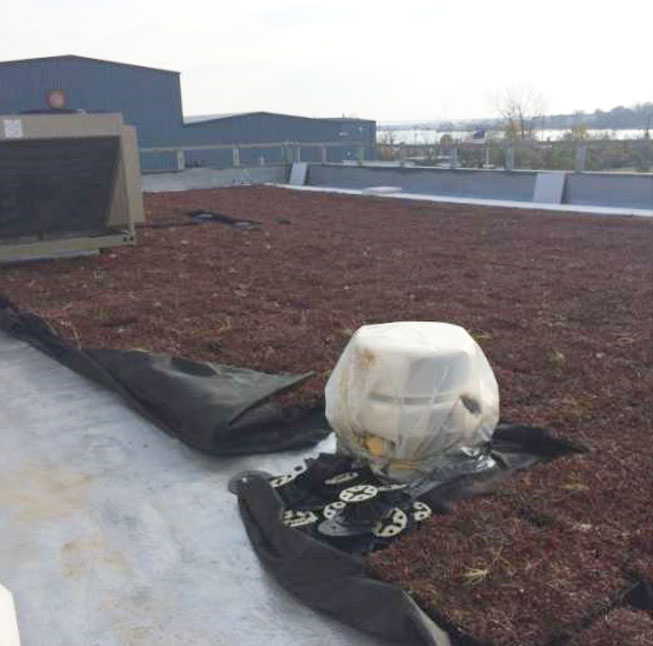 Green space in progress.
Green spaces add to insulation rating.
Green spaces on roof tops have become popular because they reduce heat flux through the roof. This means less energy is needed for heating and cooling which leads to energy cost savings. Green roofs are installed over a waterproofing membrane which protects it from UV radiation and temperature fluctuations. This can help roofs last longer. There are a multitude of benefits for green spaces on roofs. According to Icynene, 2013, "Building a rooftop garden is one of the best ways to put Icynene spray foam insulation to work in green building projects for both residential and commercial use." Offering a green roof component to building owners is another way for roofing contractors can meet high levels of energy efficiency, improve the health of building occupants and save on energy costs. All the while meeting the LEED and USGBC certification goals.