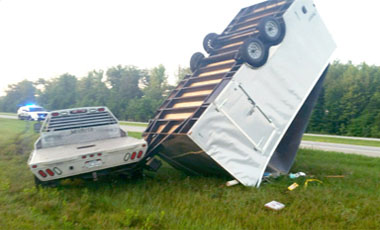 Ohio, July, 2016 - Working long hours in the heat can end in accidents or worse. That's what happened to the driver of this spray foam rig. After working a long day in the searing heat and succumbing to exhaustion, the long drive home became too much for this man and nearly ended in tragedy. Exhaustion, heat, and driving can become a lethal combination. It becomes all too easy to fall asleep at the wheel. It's something that could happen to anyone. Luckily, no one in this accident was seriously injured; however, damages and loss is the consequence of this unfortunate mishap.
Driving while tired is dangerous enough, but when it's combined with heat exhaustion, the odds are against anyone to safely make it to their destination intact. It can cost the lives of the driver, passengers and those unfortunate enough to become involved in the accident. The monotony of driving can become hypnotic and drivers can easily fall asleep before they realize it's happening. Drowsy driving has been responsible for 72,000 crashes, 44,000 injuries, and 800 deaths in 2013. Another 6000 fatal crashes could have been a result of drowsy driving, according to the National Highway Traffic Safety Administration.
Signs That Tell a Driver That it's Time to Stop
Yawning repeatedly
Blurred vision
Eye lid begin to droop
Head begins to nod
Trouble remembering the last few miles
Missing exit or traffic signs
Drifting on the road
Feeling irritable
Day dreaming
It is highly recommended that people pull over to a safe area and take a break from the road at least every two hours. Even a short nap is worth taking the time to do.
How to Stay Alert While Driving
Of course having adequate sleep is key; however, those who work long hours in high temperatures are at greater risk.
The following are some suggestions:
Adjust your vehicle settings by keeping the temperature cool
Play loud, high energy music
Turn off the cruise control
Keep your seat in an upright position
Wear sunglasses in bright sun to reduce eye fatigue
Avoid caffeine and sugary foods or drinks
Avoid fast foods as the fat, salt, and sugar can make you tired
Drink water, juice, and eat high protein foods
Munch on healthy snack during driving even if you are full
Stopping to stretch your body stimulates blood flow
Open the window for fresh air, but don't heat up your vehicle if it's hot out
Ride with a passenger to keep a conversation going
Nothing beats getting off the road when you are tired. You need to be there for your loved ones, and they want you home safe.