Wood Industries, Inc., is known around the globe for the manufacture and distribution of their complete line of quality air compressors, air tools, parts and accessories. They also currently offer replacement gasoline engines and will be offering diesel-powered generators, air-dryers, pressure washers, water and chemical trash pumps in late 2016 or early 2017. Whatever your need, Wood Industries, Inc. has an air compressor for that! Customers can choose from a wide variety of hand carries, portables, stationaries, gasoline, single stage and two stage units. Adhering to high standards, their products are affordable reliable, durable and powerful. They also pride themselves in being quality-oriented and customer-focused.
Headquartered in Belmont, Mississippi, Wood Industries boasts an 81,000 sq. ft. manufacturing plant as well as a customer service center. Their mission is to competitively provide their customers with quality air compressors and air tools along with all of the associated parts and accessories while providing industry-leading reliable service. The manufacturing plant has also brought jobs for U.S. workers and has stimulated the local economy.
Wood Industries, Inc. Receives the President's "E" Award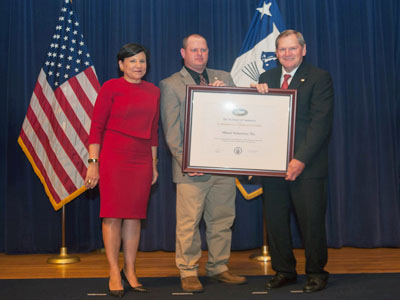 Jeff Wood, Owner of Wood Industries, Inc. (Middle) and Chris Carter, Sales Manager
for Wood Industries, Inc. (Right) receive the prestigious President's E Award from Secretary of Commerce Penny Pritzker.
The President's "E" Award is the highest recognition any U.S. entity may receive for making a significant contribution to the expansion of U.S. exports. In 2015, Wood Industries, Inc. exported over 38,000 air compressors and related products to 31 different countries. This success has allowed Wood Industries, Inc. to not only maintain the quality of their workforce but create more jobs for U.S. workers.
The "E" Award Program was established by Executive Order 10978 on December 5, 1961. It was revived by President Kennedy as a symbol of excellence--to honor and recognize America's exporters. To qualify for this award, a company must demonstrate four years of successive export growth as well as an innovative international marketing plan that leads to the increase of exports. U.S. companies are nominated for the "E" Award for Exports through the Department of Commerce's U.S. Commercial Service office network, located within the Department's International Trade Administration, which has offices in 108 U.S. cities and more than 70 countries to help U.S. exporters.
What People Are Saying About Wood Industries, Inc.
The following are a few of the many testimonials from satisfied, dedicated customers:
"We have been involved in the spray foam insulation industry for several years. Since we started building spray foam rigs a couple years ago, we were glad to have found Wood Industries, which is our exclusive provider for the air compressors that we use in all of the spray foam rigs we build. The performance of the 55 CFM model is remarkable and our customers are very impressed and pleased with how well it works with our spray foam systems."
- Roger & Jackie Reynolds @ Superior Spray Solutions
"Spec Technologies has worked with Wood Industries for over 3 years now. The service and staff are incredible and very easy to work with. The 55 CFM (18G55TRKE-H-MAP) MAXair Compressor is our compressor of choice for our spray foam rigs. This compressor runs very smooth and we have had little to no problems."
- Matt@S.P.E.C. Technologies
"We have been building spray foam rigs for more than 8 years, and in that time we have tried almost every compressor out there. We started using Wood Industries Compressors about three years ago and we have been very happy with them. Wood Industries really understands the needs of a Spray Foam Contractor, and that makes our jobs much easier."
- Craig@Equipment Options Direct
"We started to work with Wood Industries, Inc. a year ago as we could not find any air compressor manufacturing company in the United States that could meet our demanding air capacity needs. We purchase the TT90G-MAP because of its 18.5 CFM at 100 PSI capacity and its durable Honda engine and it is truly the workhorse of our spray foam platform."
- Bill Collins, Managing Partner, Energy Design Group Enterprises, LLC.
"While the TT90G-MAP has operated with very little maintenance or trouble, when we were faced with some technical questions, the Wood Industries sales and service staff were very knowledgeable and responsive. We love the 2-year warranty program because it does give us the peace of mind of knowing that our air compressors are going to get the support that they need, should anything out of the ordinary happen."
- Bill Collins, Managing Partner, Energy Design Group Enterprises, LLC.
Quality, High-Performance Air Compressors
Wood Industries, Inc. has historical roots that go back as far as the 1930s. They design and engineer every compressor to the highest standards. Their products are built to last by incorporating cast iron cylinders, heavy duty extended weld handles, pneumatic tires, thick base plates, and more. Their compressors commonly have a higher CFM output than other leading brands. They provide value-added performance and features that allow customers to "up sell" compressors rather than relying on price alone. Quality and craftsmanship is always number one!
Name Brands
Customers will find such brand names as Eagle, Iron Horse, and MAXair:
- The Iron Horse brand offers numerous SKUs and is competitively priced. Iron Horse compressors offer great value and performance for serious "do-it-yourself" customers or the semi-professional user and comes with a one-year warranty.
- The Eagle brand is a step up in quality and features and provides everything needed for the industrial professional. It also has a one-year warranty.
- The Eagle Silent Series compressor line boasts of being the quietest compressors in the industry specifically designed for the Professional Contractor. This product received the Retailers' Choice Award for "The Most Outstanding and Innovative Product" at the National Hardware Show for 2016.
- The MAXair brand is a rugged, heavy-duty compressor that offers innovative high pressure single stage pumps and is loaded with features that surpass the needs of any industrial challenge. It comes with an extended two-year warranty.
Customer Service and Support
Wood Industries, Inc. has customer service representatives with nearly 50 years of experience in the compressor industry. They have a network of over 400 authorized service centers as well as service center options for every need and situation. Their user-friendly website offers a place for customers to obtain product information, catalogs, troubleshooting guides, owner's manuals, and more. Wood Industries, Inc.'s toll free Customer Service Support Center line is covered by the industry's leading experts on compressors.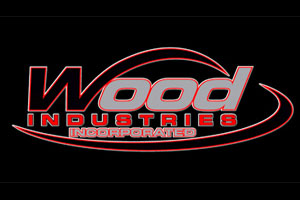 LEARN MORE ABOUT WOOD INDUSTRIES, INC.