Contractors new to the spray foam business are all too often easy prey for unscrupulous equipment salesman. Every day someone falls victim to another rip off, and it ends up giving the industry a bad name. Getting ripped off can happen to anyone--no matter how educated you are, no matter how much money you have, or how much you rely on friends to give you good advice. People tend to trust what they think is expert advice when they're new to something. That "expert advice" could be from an equipment salesman who is only out for himself—to make a sale today and nothing more. He/she could care less about causing you untold grief while being more than happy to take as much of your hard-earned money as can be had. There are a lot of outstanding companies out there that will do right by you. It's all in—not just doing your homework--but understanding how to do your homework.
BOB'S STORY
Bob Pender, of Beaver, Pennsylvania, intended to buy just one spray foam machine to start his new spray foam business. But, he ended up attending the school of hard knocks when he purchased, not one, but three spray foam machines, in a row, to get his new business off the ground. The black hole of seemingly endless failures of machines and materials taught him a hard lesson that cost him large sums of money—much more than he would have paid had he understood how to do his homework and who to trust in the beginning. It cost him projects, payroll, repairs, delays, material, time and untold grief that put his livelihood on the edge for months. But, Bob is an incredible survivor who hopes the valuable lessons he's learned, and the insight he's gained, will help others avoid the same pitfalls.
Spray Foam Machine Number One: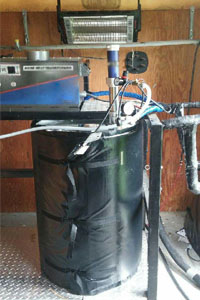 Earlier this year, Bob got a referral from a friend about where to buy a spray foam machine. His friend referred him to a company he knew of, so Bob thought everything would be okay. He called the company and talked with a salesman, who convinced him to buy an injection spray foam machine via a photo for $15,000. He also purchased a set of material from the same company for $4000 more. When the machine was delivered, it was a different machine than the photos he had seen. It consisted of little more than a material drum, a transfer pump, hose and spray gun. The salesman spent one-hour training Bob on the machine, said good luck, and was never seen or heard from again. Moreover, when Bob called the salesman later, he didn't want to be bothered.
Bob started his first project with his new machine and material. Shortly into the project, the material he was spraying had disastrous results. In addition to this, his new machine stopped working. He limped the machine back into service several times; however, he had to tear out all the foam he had just sprayed because it kept shrinking! In fact, every job Bob did, went like this: Machine breaks downs, buy new parts, repair machine, put crew on hold, tear out foam, re-spray foam and lose money. This went on and on until Bob could take it no longer.
Spray Foam Machine Number Two: The Nightmare Continues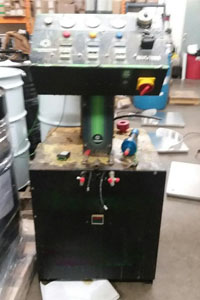 Bob was forced to purchase another machine. Surely, this time things would go right. The next spray foam manufacturer Bob spoke with told him to take his old machine to the trash yard and start over with a new one that he promised would do everything he needed. This time, Bob traveled to the company's place of business. He was dazzled by the big building, trucks going in and out, the many trailers, offices with secretaries and the phones ringing. Bob felt a sense of security that this was a place that he could depend on. Bob purchased another spray foam machine with 200 feet of hose for $25,000. He also bought an air dryer for an additional $1,700. By this time, Bob had spent everything he had. The company didn't have the air-dryer in stock but promised to send it to him later.
Machine Makes a Loud Popping Noise!
Two weeks later, while on the job, the machine made a loud popping noise. It was the transformer. Bob called the manufacturer and was told that they would not warranty repairing or replacing the machine because it was refurbished. Bob was stunned! No one had told him that the machine he bought was refurbished, but they were more than happy to sell him a new transformer for $3000. Since Bob was in the middle of a project, he agreed. By the third job, the machine broke down again. Bob found himself continuously replacing part after part. He could only buy the parts from the manufacturer because everything was "special made". Not only was Bob trapped in paying top dollar for parts, but it took a long while for the new parts to arrive. Bob was on a downward spiral of shutting down jobs and losing other jobs while continuing his payroll to keep his crew on standby. "I lost so much work. Partial jobs had to be shut down, I had problem after problem with the machine, the material wouldn't apply correctly, it had to be repeatedly torn out, my payroll went on and the manufacturer never delivered my air-dryer," he said. It gets worse. "The material I purchased gave off a terrible smell that I've never experienced before. I got so concerned about the health of my crew that I shut down the job and make them leave the area for safety," he said.
Spray Foam Machine Number Three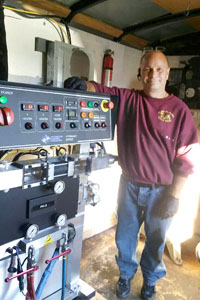 The company Bob had been dealing with went out of business shortly thereafter. Yep, you guessed it. Bob had to buy yet another machine. This time Bob visited the company and met staff who seemed genuinely willing to help him. They gave him more money for his old machine than it was worth toward the purchase of a new machine. And, he could try it out the machine and the material on the spot. They also provided Bob with intensive training free of charge, on-going tech support, a full warranty with the machine, material that performed well, and parts and accessories that were readily available should he need them. "They really bailed me out of a bad spot and treated me right. You just don't find people so willing to help like this. I don't know what I would have done without them. They saved my butt," he said.
Spray Foam Insider Follows up with Bob
Spray Foam Insider did a follow-up with Bob to see how he was doing. "My new PMC PH-2 machine works great and sprays like a dream. I never knew spraying could be this smooth. A lot of jobs are coming in, and I can see the light at the end of the tunnel," Bob reported. We asked Bob what kept him going despite these setbacks. "I'm in too deep financially. I have a family to support, so I have to keep going. I have work coming in every day and I know that tech support is just a phone call away. In fact, I've called the company to ask questions, and no matter how busy they are, they always talk to me on the spot or get right back to me right away to help me through whatever I need. They even talked to me after hours!" he said.
Unfortunately, Bob's story is all too common. As much as new contractors try to do their homework, falling into the wrong hands can still happen to the best of them. So, Bob has excellent advice to help others avoid nightmare experiences like his. Bob's words: "Do research, research, research, research, then research some more. Get educated, get training and buy where you can try out equipment and get service after the sale." Bob asked that his story be made public, so he could spare new contractors the horrors he experienced.
Buyer Beware Prevention
Never buy equipment sight-unseen unless you really know who you're dealing with.
Try before you buy. Reputable manufacturers and distributors will often let you try out equipment and materials, at their place of business, before you commit to a purchase.
Getting professional training is worth its weight in gold. Proper training can last anywhere from days to weeks, but learning is an on-going process. There are several professional organizations and manufacturers that offer training or can point you in the right direction.
Be sure the company you are dealing with provides on-going tech support and will be available to help you over time. This is crucial for success.
Check to see if companies will respond to your call in a timely manner and are receptive to your needs—not just their need for a sale.
Check the company's history through the BBB (Better Business Bureau).
Ask for references of the company's customers you can call who will vouge for the company's products and services. Find out how their customers are treated.
Make sure that parts are readily available if or when quick repairs are needed.
Make sure the machine has a warranty and that the company will stand behind their products.
Free help and advice is also available through several SPF industry organizations. See Spray Foam Insider's resource list. You don't have to be a member to get help.
We know that everyone wishes Bob the best. Remember, this can happen to anyone and it does happen to unsuspecting people somewhere every day. Don't venture into the spray foam business until you understand how to do your homework, get professional training, talk with experts, call SPF organizations and ask a lot of questions. It's a great business, if you know who to trust and connect with reputable companies that will have your back—not just for today but every day.
Those wishing to contact Bob can do so at Robb2684@comcast.net
Share Your Story with Spray Foam Insider
Email: info@sprayfoaminsider.com or call: 330-209-9019